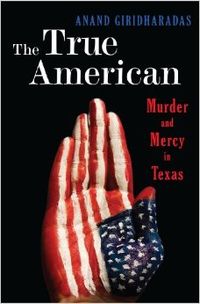 BACK
THE TRUE AMERICAN
Murder and Merxy in Texas
In the vein of Zeitoun and Behind the Beautiful Forevers, a tour de force of narrative reportage.
Anand Giridharadas's deeply moving new work of narrative nonfiction tells the story of Raisuddin Bhuiyan, a former Bangladeshi Air Force officer who comes to America with a dream of starting a new life. That dream falters when, after 9/11, a self-declared "American terrorist" named Mark Stroman walks into the Dallas minimart where Bhuiyan works and shoots him in the face, nearly ending his life.
Then, a decade after the shooting, in a remarkable act of mercy, Bhuiyan forgives Stroman and wages a legal battle against Governor Rick Perry, in the name of Shariah law and the U.S. Constitution, attempting to spare from execution the man who tried to kill him.

With chilling parallels across Europe, The True American is a story about society's love-hate relationship with immigrants, about the meeting of Islam and the West, and about whether we choose who we become or let ourselves be hemmed in by history.

Anand Giridharadas writes the Admit One column for the New York Times's arts pages and the Currents column for its global edition. He is the author of India Calling: An Intimate Portrait of A Nation's Remaking. He lives in Brooklyn, New York.
More like this