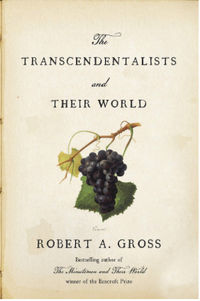 BACK
THE TRANSCENDENTALISTS AND THEIR WORLD
Emerson, Hawthorne, Thoreau, the Alcotts... THE TRANSCENDENTALISTS AND THEIR WORLD offers a fresh view of the thinkers whose outsize impact on philosophy and literature would spread from tiny Concord to all corners of the earth.
Ralph Waldo Emerson, Henry David Thoreau, Nathaniel Hawthorne, and the Alcotts called this New England town home, and Thoreau drew on its life extensively in his classic WALDEN. But Concord from the 1820s through the 1840s was no pastoral place fit for poets and philosophers.
THE TRANSCENDENTALISTS AND THEIR WORLD is both an intimate journey into the life of a community and a searching cultural study of major American writers as they plumbed the depths of the universe for spiritual truths and surveyed the rapidly changing contours of their own neighborhoods. It shows us familiar figures in American literature alongside their neighbors at every level of the social order, and it reveals how this common life in Concord entered powerfully into their works. No American community of the nineteenth century has been recovered so richly and with so acute an awareness of its place in the larger American story.

Robert A. Gross is the James L. and Shirley A. Draper Professor of Early American History Emeritus at the University of Connecticut. He is the author of The Minutemen and Their World (1976), winner of the Bancroft Prize, and of Books and Libraries in Thoreau's Concord (1988); with Mary Kelley, he is coeditor of An Extensive Republic: Print, Culture, and Society in the New Nation, 17901840 (2010). A former assistant editor of Newsweek, he has written for such periodicals as Esquire, Harper's, the Boston Globe, and the New York Times, and his essays have appeared in The American Scholar, New England Quarterly, Raritan, and Yale Review.
More like this