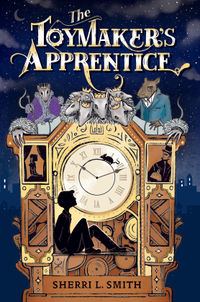 BACK
THE TOYMAKER'S APPRENTICE
A gorgeously imagined Nutcracker retelling, THE TOYMAKER'S APPRENTICE is a stand-alone middle grade novel.
Stefan Drosselmeyer is a reluctant apprentice to his toymaker father until the day his world is turned upside down. His father is kidnapped and Stefan is enlisted by his mysterious cousin, Christian Drosselmeyer, to find a mythical nut to save a princess who has been turned into a wooden doll. Embarking on a wild adventure through Germany, Stefan must save Boldavia's princess and his own father from the fanatical Mouse Queen and her seven-headed Mouse Prince, both of whom have sworn to destroy the Drosselmeyer family.

Based on the original inspiration for The Nutcracker ballet, The Nutcracker and the Mouse King by E.T.A. Hoffmann (1816), Sherri Smith brings the Nutcracker Prince to life in this fascinating journey into a world of toymaking, magical curses, clockmaking guilds, talking mice and erudite squirrels.

Along with a gorgeous cover illustration and a high production value, the book will also feature black & white interior art frontispieces at each part opener—three in all.

Sherri L. Smith is the author of several novels for young adults, including the critically acclaimed FLYGIRL and ORLEANS. THE TOYMAKER'S APPRENTICE is her middle grade debut. Her novels each have a distinct voice that sets them apart, and this epic journey is narrated in a way that gives it the feel of an instant classic.
More like this