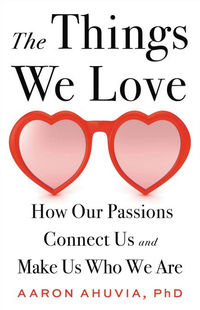 BACK
THE THINGS WE LOVE
How Our Passions Connect Us and Make Us Who We Are
THE THINGS WE LOVE is a revealing, scientific investigation of the secret, tangled, emotional relationships people have with things, drawing on cutting-edge findings from psychology, neuroscience, and marketing.
Ceramic figurines, iPhones, shoes, cars, T-shirts, blankets, dolls, comic books, toys, furniture. If you're like most people, at some point in your life you've found yourself indulging in a secret love affair with some thing that brings you immense joy, comfort, or fulfillment. Why is it that we so often feel intense passion for inanimate objects? What does this tendency tell us about our lives, nature, habits, and experience?

In THE THINGS WE LOVE, Dr. Aaron Ahuvia reveals some astonishing discoveries from psychology, neuroscience, and marketing that prove we are far less "rational" than we think when it comes to our possessions. Instead, we have intense relationships with the things we love, and these relationships are driven by influences deep within our biology. In many cases, they are among the richest experiences many of us have in our entire lives. (And as the author notes, for the book's overall purpose and conciseness, "the word "things" also includes animals, for which I pre-emptively beg the forgiveness of my fellow animal lovers.")

Some of our passions for things are sudden, obsessive, and fleeting. Others last for most of our lives and demand from us total fidelity. Others turn dark: we become hoarders, or go from loving objects to hating them so much we would rather destroy them than let anyone else own them. And as technology improves, will we become so vulnerable to marketing and other corporate maneuvers that we will lose the ability to consciously choose our things? Might our lives become so dominated by our emotional ties to things that we lose interest in other people?

Packed with fascinating case studies, science, and takeaways for living in a modern world saturated with advertisements and material desires, THE THINGS WE LOVE offers a truly original and insightful look into how and why we come to love our things - and how understanding these relationships can enrich and improve our lives.

Dr. Aaron Ahuvia is a Professor of Marketing at the University of Michigan-Dearborn College of Business and the most widely published and cited academic expert on non-interpersonal love. He has published more than 100 academic papers and conference presentations, and his research has been quoted in Time, the New York Times, The Wall Street Journal, Glamour, along with major publications in Europe, Japan, and elsewhere. Dr. Ahuvia has also appeared on public radio talk shows and popular television shows such as the Oprah Winfrey Show; he is well connected in the media. He has done consulting for brands such as Procter & Gamble, Google, Audi, Samsung, General Motors, Microsoft, Ford, Gucci, Versace, La Perla, Zegna and Valentino. His reputation as an engaging speaker has led to presentations in China, India, the Netherlands, Germany, Italy, France, Switzerland, Portugal, Denmark, Finland, Poland, Morocco, Israel, Jordan, Kazakhstan, Singapore, Slovakia, and elsewhere.

Weblink:
thethingswelove.com/about-aaron/


More like this