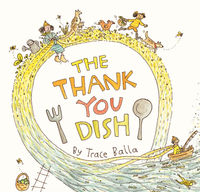 BACK
THE THANK YOU DISH
Trace Balla, author of Rivertime, Rockhopping and Shine, playfully explores where the food on your plate comes from, in her latest sweet picture book, The Thank You Dish.
Served with plenty of gratitude and earthiness, as is Trace's style, this picture book is perfect for helping children appreciate food, community and the value of both. I'm sure it will also inspire many a game around the dinner table!

Trace Balla's previous books, River me, Rockhopping and Shine, are highly acclaimed. River me won the Australian Readings Children's Book Prize and the Wilderness Society's Environment Award for Children's Literature. It was shortlisted for the CBCA Awards in two categories and the NSW and WA Premiers' Literary Awards, amongst others.
More like this