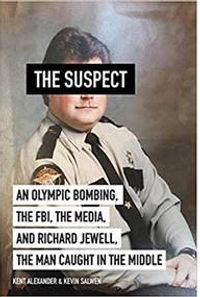 BACK
THE SUSPECT
An Olympic Bombing, The FBI, the Media and Richard Jewell, the Man Caught in the Middle
A gripping, insider account of the terrorist bombing at the 1996 Olympic Games that captured the world's attention, and the heroic security guard-turned-suspect at the heart of it all
On July 27, 1996, a hapless former cop turned hypervigilant security guard named Richard Jewell spotted a suspicious bag in Atlanta's Centennial Olympic Park, the town square of the 1996 Summer Games. Inside was a bomb, the largest of its kind in FBI and ATF history. Minutes later, the bomb remotely detonated by the attacker amid a crowd of 50,000 people. But thanks to Jewell, it only killed two and wounded 111, not the hundreds who authorities estimated could have otherwise died.
With the eyes of the world on Atlanta, the games continued. But the pressure to find the bomber was intense. Within 72 hours, Jewell went from the hero to the FBI's main suspect, a false accusation that forever changed his life and let the true bomber roam free to strike again.

In a triumph of reporting and access, Kent Alexander and Kevin Salwen's The Suspect is a gripping story of the rise of domestic terrorism in America, the advent of the 24/7 news cycle, and an innocent man's fight to clear his name.

Kent Alexander was the US Attorney for the Northern District of Georgia at the time of the 1996 Olympics. He spent hundreds of hours in meetings with the FBI about the bombing, and ultimately, he wrote and hand-delivered Jewell's clearance letter.
Journalist Kevin Salwen is a former Wall Street Journal columnist and an editor who ran southeastern coverage for the paper during the Olympic Games.
More like this