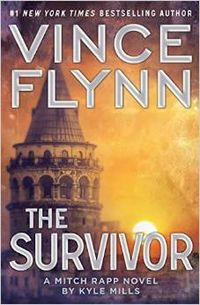 BACK
THE SURVIVOR
Top secret data has been stolen from the CIA, and the only man who knows its hiding place is dead. CIA operative Mitch Rapp must race to find the classified information in this blistering novel that picks up where The Last Man left off in Vince Flynn's New York Times bestselling series.
Joseph "Rick" Rickman, former boy wonder at the CIA, stole a massive amount of top secret and hugely compromising intel concerning classified operations all over the world, offering it (and himself) to the Pakistani secret forces. Only his plans went awry when CIA director Irene Kennedy sent Mitch Rapp to hunt him down. It turns out that killing Rickman didn't solve anything—in fact, the nightmare is only intensifying. Rickman stored the potentially devastating data (CIA assets, operatives, agents) somewhere only he knew, and somehow, from beyond the grave, he still poses a mortal threat to America.

Now it's a deadly race as both the Pakistanis and the Americans search for Rickman's accomplices and the information they are slowly leaking to the world. Will Rapp outrun and outthink his enemies, or will the Pakistanis find it first and hold America hostage to their dream of becoming the world's new nuclear superpower?

#1 New York Times bestselling author Vince Flynn (1966–2013) created one of contemporary fiction's most popular heroes: CIA counterterrorist agent Mitch Rapp, featured in thirteen of Flynn's acclaimed political thrillers. All of his novels are New York Times bestsellers, including his stand-alone debut novel, Term Limits. The Mitch Rapp story begins with American Assassin, followed by Kill Shot, Transfer of Power, The Third Option, Separation of Power, Executive Power, Memorial Day, Consent to Kill, Act of Treason, Protect and Defend, Extreme Measures, Pursuit of Honor, and The Last Man.

His novels have been published in twenty countries worldwide, and have sold more than one million copies as ebooks. He was a native of Saint Paul, Minnesota, where his family lives. Visit his website at VinceFlynn.com.

Kyle Mills is the New York Times bestselling author of twelve books, including the latest in Robert Ludlum's Covert-One series, The Ares Decision. Growing up in Oregon, Washington, DC, and London as the son of an FBI agent, Kyle absorbed an enormous amount about the Bureau, giving his novels their unique authenticity. He and his wife live in Wyoming where they spend their off hours rock climbing and backcountry skiing.
More like this