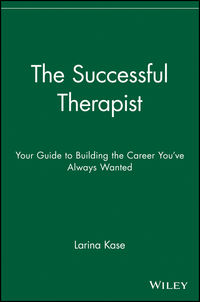 BACK
The Successful Therapist
Your Guide to Building the Career You've Always Wanted
Can a therapist expect a career that is both satisfying and financially rewarding? Yes!

Find out how this dynamic guide will help you envision and practice success!

"The Successful Therapist is essential reading for all mental health practitioners. It opens our eyes to the many possible paths to take, and helps individuals see how they can take control and plan an exciting, lucrative, and rewarding career."
--Deborah Roth Ledley, PhD, psychologist and author

If you want a rewarding mental health career that works for you--where you both make a living and help improve others' lives--you must take a leadership role in your own career development. The Successful Therapist gives you the tools and strategies you need to plan and grow a successful career. Going beyond just dollar profits, this guide will help you define success in terms of what you value most in the field, then give you the entrepreneurial skills to best position yourself so you can realize those values and achieve your goals.

Drawing on the author's own experiences as well as interviews with numerous successful clinicians, this book first offers a general road map for creating a successful career plan. It discusses:
* How to envision your career
* How to make choices and position yourself for success
* Business planning for yourself and your practice
* Basics of understanding, setting up, and running your own business


The second part of this book provides information on alternative and non-traditional career paths for therapists. These include:
* Personal and executive coaching
* Business consulting
* Forensic psychology
* Clinical administration
* Writing and lecturing
* Careers in other fields


This savvy career guide--written by someone who's built her own successful career in and around mental health--is packed with helpful self-assessments, questionnaires, and real-life case studies. Whether you're just starting in practice, want to change careers, or want to further develop your current mental health practice, this is an inspiring and essential guide that will set you on the path to empowerment and success.
More like this