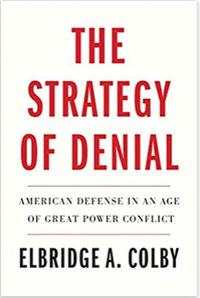 BACK
THE STRATEGY OF DENIAL
American Defense in an Age of Great Power Conflict
For followers of Robert D. Kaplan's masterful non-fiction, Elbridge A. Colby offers his perspective and insight on geopolitics.
Elbridge A. Colby was the lead architect of the 2018 National Defense Strategy, the most significant revision of that document in a generation. Here he lays out how America's defense must change to address China's growing power and ambition. Based firmly in the realist tradition but written with an awareness of current policy, this book offers a clear framework for what America's goals in confronting China must be, how its military strategy must change, and how it must prioritize these goals over its lesser interests.

The most informed and in-depth reappraisal of America's defense strategy in decades, this book outlines a rigorous but practical approach, showing how the United States can prepare to win a war with China that we cannot afford to lose - precisely in order to deter that war from happening.

Elbridge A. Colby is co-founder and principal of The Marathon Initiative. He served as deputy assistant secretary of defense for strategy and force development from 2017 through 2018, during which he led the development of the 2018 National Defense Strategy. Bridge Colby publishes articles fairly regularly on current affairs, mostly US/China relations, in places like NYT, WSJ, Financial Times, Foreign Policy, etc. and that extends to the international press lately especially in Germany. He is the grandson of Nixon/Ford-era CIA Director William Colby.
More like this