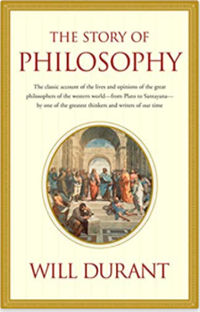 BACK
THE STORY OF PHILOSOPHY
The Lives and Opinions of the Greater Philosophers
A brilliant and concise account of the lives and ideas of the great philosophers - Plato, Aristotle, Bacon, Spinoza, Voltaire, Kant, Schopenhauer, Spencer, Nietzsche, Bergson, Croce, Russell, Santayana, James, and Dewey - The Story of Philosophy is one of the great books of our time.
The Story of Philosophy opens vistas of intellectual adventure and growth to those who hunger for the total perspective that is philosophy. Within its pages, Durant seeks the wisest and most indestructible answers from the world's greatest philosophers to the persistent and fundamental questions about first and last things.

Few write for the non-specialist as well as Will Durant, and this book is a splendid example of his eminently readable scholarship. Durant's insight and wit never cease to dazzle; The Story of Philosophy is a key book for any reader who wishes to survey the history and development of philosophical ideas in the Western world.

William James Durant (November 5, 1885 - November 7, 1981) was an American writer, historian, and philosopher. He is best known for The Story of Civilization, 11 volumes written in collaboration with his wife Ariel Durant and published between 1935 and 1975. He was earlier noted for The Story of Philosophy (1924), described as "a groundbreaking work that helped to popularize philosophy".
He conceived of philosophy as total perspective, or, seeing things sub specie totius, a phrase inspired by Spinoza's sub specie aeternitatis. He sought to unify and humanize the great body of historical knowledge, which had grown voluminous and become fragmented into esoteric specialties, and to vitalize it for contemporary application.
More like this