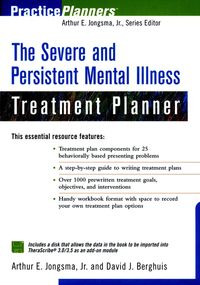 BACK
The Severe and Persistent Mental Illness Treatment Planner
Treatment plan components for 36 behaviorally based presenting problems
A step-by-step guide to writing treatment plans
Over 1000 prewritten treatment goals, objectives, and interventions
Handy workbook format with space to record your own treatment plan options

The Severe and Persistent Mental Illness Treatment Planner provides all the elements necessary to quickly and easily develop formal treatment plans that satisfy the demands of HMOs, managed care companies, third-party payers, and state and federal review agencies.
* Saves you hours of time-consuming paperwork, yet offers the freedom to develop customized treatment plans for the severely and persistently mentally ill
* Organized around 36 main presenting problems, from family conflicts to paranoia, parenting, health issues, and more
* Over 1,000 clear statements describe the behavioral manifestations of each relational problem, and includes long-term goals, short-term objectives, and clinically tested treatment options
* Easy -to - use reference format helps locate treatment plan components by behavioral problem or DSM IV(TM) diagnosis
* Includes a sample treatment plan that conforms to the requirements of most third-party payers and accrediting agencies (including JCAHO and NCQA)


Homework Planners feature behaviorally based, ready-to-use assignments to speed treatment and keep clients engaged between sessions.

Documentation Sourcebooks provide the forms and records that mental health professionals need to efficiently run their practice.
More like this