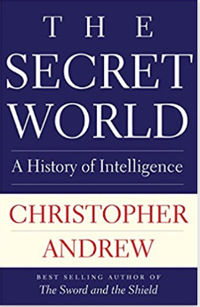 BACK
THE SECRET WORLD
A History of Intelligence
The first ever international history of intelligence, from the Bible to today.
The history of espionage is far older than any of today's intelligence agencies, yet the long history of intelligence operations has been largely forgotten. The codebreakers at Bletchley Park, the most successful World War II intelligence agency, were completely unaware that their predecessors in earlier moments of national crisis had broken the codes of Napoleon during the Napoleonic wars and those of Spain before the Spanish Armada.

Those who do not understand past mistakes are likely to repeat them. Intelligence is a prime example. At the outbreak of World War I, the grasp of intelligence shown by U.S. President Woodrow Wilson and British Prime Minister Herbert Asquith was not in the same class as that of George Washington during the Revolutionary War and leading eighteenth-century British statesmen.

In this book, the first global history of espionage ever written, distinguished historian Christopher Andrew recovers much of the lost intelligence history of the past three millenniaand shows us its relevance.

Christopher Andrew is Professor of Modern and Contemporary History at Cambridge University, a Fellow of the Royal Historical Society, in-house historian for MI5, former Visiting Professor of National Security at Harvard University, and guest lecturer at numerous universities. With Oleg Gordievsky, he published KGB The Inside Story, the book that revealed the identity of the fifth man. Professor Andrew is also a frequent presenter of BBC TV and radio programmes on history and world affairs.
More like this