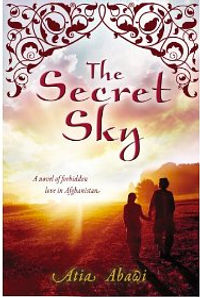 BACK
THE SECRET SKY
A Novel of Forbidden Love in Afghanistan
An eye-opening, heart-rending tale of love, honor and betrayal from NBC foreign news correspodent Atia Abawi.
Fatima is a Hazara girl, raised to be obedient and dutiful. Samiullah is a Pashtun boy raised to defend the traditions of his tribe. They were not meant to fall in love. But they do. And the story that follows shows both the beauty and the violence in current-day Afghanistan as Fatima and Samiullah fight their families, their cultures and the Taliban to stay together. Based on the people Atia Abawi met and the events she covered during her nearly five years in Afghanistan, this stunning novel is a must-read for anyone who has lived during America's War in Afghanistan.

Perfect for fans of Patricia McCormick, Linda Sue Park, and Khaled Hosseini, this story will stay with readers for a long time to come.

Atia Abawi is a foreign news correspondent who was stationed for almost five years in Kabul, Afghanistan. She was born to Afghan parents in West Germany and was raised in the United States. She currently lives in Jerusalem with her husband, Conor Powell.
More like this