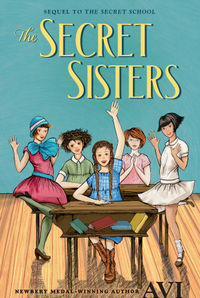 BACK
THE SECRET SISTERS
Old traditions conflict with modern notions when a girl determined to define her own place graduates from a rural one-room schoolhouse to a small town's bustling school, in Newbery medalist Avi's sequel to THE SECRET SCHOOL.
Attending high school in Steamboat Springs is Ida Bidson's dream - it's her next step toward becoming a teacher and her best shot at escaping a life of milking cows.
It's 1925, and from using telephones to attending movies, Ida is thrilled by her new experiences in Steamboat. She and her school friends even form a club, the Secret Sisters, to celebrate everything modern. But when they accidentally antagonize the strict, traditionalist principal, Ida's high school career may be in jeopardy.
It's up to the Secret Sisters to confound the old-fashioned principal's notions and save Ida's dream!

Avi is the award-winning author of more than eighty-two books for young readers, ranging from animal fantasy to gripping historical fiction, picture books to young adult novels. Crispin: The Cross of Lead won the Newbery Medal, and The True Confessions of Charlotte Doyle and Nothing But the Truth were awarded Newbery Honors. He is also the author of the popular Poppy series. Avi lives in Denver, Colorado. Visit him online at www.avi-writer.com.
More like this