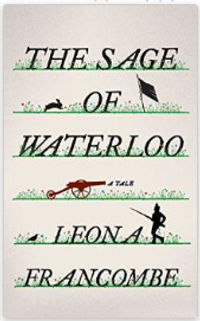 BACK
THE SAGE OF WATERLOO
Sly, wise, and most original novel about a rabbit who recounts his tumultuous early years growing up near the historic battlefield of Waterloo, combining his quest to understand his own past with the story of Napoleon, Wellington, and the battle itself, as well as his reflections on human folly and the wisdom of the natural world.
The ancient farmstead of Hougoumont, near Waterloo, occupied a strategic spot by the ridge where the Duke of Wellington amassed his Allied troops on June 17, 1815, in preparation for battle with Napoleon. The next day, when the French attacked, the chateau and several outbuildings were burned, the North Gate was breached and then retaken, and within hours 6,000 men were either dead or wounded. But as every school child knows, the British and their Prussian allies eventually prevailed, and this remote Belgian farm turned out to be pivotal to the outcome of the Battle of Waterloo and the fate of Europe.

What many don't know is that some of the rabbits who lived on the property – mainly to provide dinner for the Belgian aristrocrats who owned it – witnessed the battle, and a few even survived it. Among their descendents is William, a white rabbit of our own time with a keen interest in the past... The Sage of Waterloo is his story. This is a one-of-a-kind, charming, and quietly profound novel about human folly and the wisdom of the natural world, one we believe will captivate readers of Elegance of the Hedgehog and Life of Pi.

Leona Francombe is a pianist and writer who was born in England of Czech and English parents, and grew up in the USA. She holds a BA in Russian and music from Bryn Mawr College, and an MA from the Yale School of Music. She has published numerous essays and short stories in Europe and America, and recorded a series of European vignettes for Wisconsin Public Radio. She was invited to Brussels, Belgium, in 1987 by the European Cultural Foundation to create an East/West chamber music ensemble, and lives there still with her husband and two children.
More like this