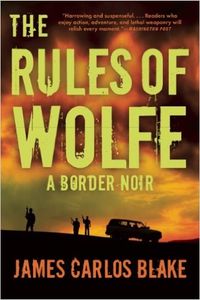 BACK
THE RULES OF WOLFE
A Border Noir
From L.A. Times Book Prize-winner James Carlos Blake comes a relentless thriller about a man from a family of Texas outlaws who falls for the wrong woman and ends up on the run from a ruthless drug kingpin. Eddie Wolfe is a young, impetuous member of the Wolfe clan, and, eager to strike out on his own, he crosses the border to work security for a Mexican drug cartel run by the ruthless La Navaja.

At a party Eddie falls for a beautiful woman named Miranda, whom he learns too late is the girlfriend of El Segundo, La Navaja's brother. When El Segundo finds Eddie and Miranda together, Eddie kills him, forcing the two lovers to flee the cartel in the hopes of crossing the border and reuniting with the Wolfe family.

Yet La Navaja's reach is far and his lust for revenge insatiable, so he sends a horde of killers on Eddie and Miranda's tail, along with the deadly bounty hunter, El Martillo. As Eddie and Miranda try to evade capture, they realize that even if La Navaja doesn't kill them, a once-in-a-lifetime sandstorm might. Fighting their way through the brutal Mexican desert, Eddie and Miranda's only hope may be the very Wolfe family Eddie abandoned, who will cut through anything and anyone to save one of their own. THE RULES OF WOLFE is a nonstop page-turner from a writer Entertainment Weekly calls, "one of the greatest chroniclers of the mythical American outlaw life."
More like this