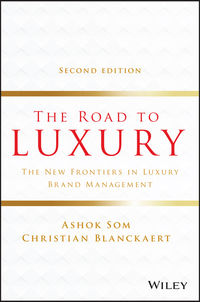 BACK
The Road to Luxury
The New Frontiers in Luxury Brand Management
Discover the meaning of the latest trends in the luxury industry with this resource from leading voices in the field
The thoroughly revised Second Edition of The Road to Luxury: The New Frontiers in Luxury Brand Management delivers a comprehensive overview of the foundations of, and new developments in, luxury brands. The book discusses a new wave of mergers and acquisitions, the rise of Gucci, the growth of Balenciaga, a variety of new collaborations between different companies, a growing support for sustainability, and the COVID-19 pandemic.
Readers will also benefit from the inclusion of:
An insightful analysis of the impact and meaning of the COVID-19 for the luxury industry, particularly for market growth in China
The creation of savoir faire and business plan competitions in the luxury industry
LVMH's sponsoring of Viva Technology
Perfect for students in MBA programs or taking degrees or courses in Luxury Brand Management, The Road to Luxury will also earn a place in the libraries of executives and managers in the luxury business, marketing, branding, and advertising professionals and companies, and entrepreneurs interested in the workings of the luxury industry.
More like this