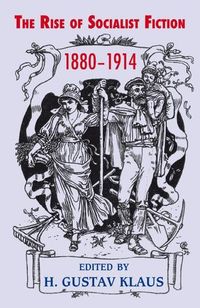 BACK
The Rise of Socialist Fiction 1880-1914
Leading scholars combine here a sustained attempt to trace the growth of socialist fiction in the crucial period of the formation of the modern British labour movement.
While the importance of the long-neglected literary tradition is now recognised, no other studies have been as comprehensive as this collection. The essays here go beyond the limited concentration on slum fiction which long characterised studies.
The remit of this work is the exploration of the emergence of the alternative tradition in English literature, the relationship between socialist fiction and the mainstream. The work also connects the British contribution with the European socialist novel.
Contents: New, and original, Editor's Introduction; Kiernan Ryan, 'Citizens of centuries to come: the ruling-class rebel in socialist fiction'; Brunhild de la Motte, 'Radicalism-feminism-socialism: the case of the women novelists'; Jack Mitchell, 'Tendencies in narrative fiction in the London-based socialist press of the 1880s and 1890s'; H. Gustav Klaus, 'The Strike novel in the 1890s'; J.M. Rignall, 'Struggles of the past: brushing history against the grain'; Graham Holderness, 'Anarchism and fiction'; Ingrid von Rosenberg, 'French naturalism and the English socialist novel: Margaret Harkness and William Edwards Tirebuck'; Paul Salveson, 'Allen Clarke and the Lancashire school of working-class novelists'; Michael Wilding, 'Henry Lawson's radical vision'; Ronald Paul, 'Tressell in international perspective'; Edmund and Ruth Frow, 'Ethel Carnie: writer, feminist and socialist'; chronological table; index.
More like this