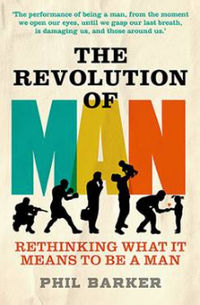 BACK
THE REVOLUTION OF MAN
Rethinking What It Means To Be a Man
The performance of being a man, from the moment we open our eyes, until we gasp our last breath, is damaging us, and those around us.
With THE REVOLUTION OF MAN, Phil Barker dives deep into research and personal experience in an attempt to solve an increasingly sticky question: 'what does it mean to be a good man?' He takes us through some of the more contentious issues which are shaping and influencing young (and older) men - from pornography to men's rights activists, violence against women to the rising rates in male suicide. It is an all-encompassing view across what it means to be 'male' in modern society, and the extreme pressures young men are facing.

Phil's aim in writing this book was to reach someone like his brother-in-law - a 30-something-year-old man who doesn't usually pick up books. The tone is authentic, personal and anecdotal - a complete non-bullshit approach. As well as aiming to be totally accessible, his writing is based in broad knowledge and research. As a journalist Phil has spent years investigating the modern epidemics of suicide, domestic violence, pornography and misogyny, but also the essential bonds of male friendship, fatherhood and men's relationships with women.

The result is a book full of funny, self-deprecating stories backed by solid statistics and case studies. This is a book by a man for men, and those who love them, examining the issues caused by toxic ideas of masculinity. It is essential and timely, furthering and enriching the conversations currently reverberating around the world.

With more than 25 years of experience in the media, Phil Barker has edited NW and Woman's Day magazines, and published such titles as Vogue, GQ, Delicious, InsideOut and Donna Hay. He is a consultant creative director and communications specialist and is a regular commentator on the life and style of Australian men.
More like this