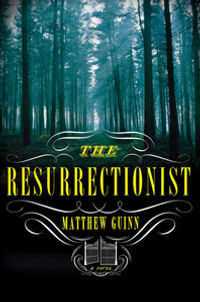 BACK
THE RESURRECTIONIST
Terrific, atmospheric, literary crime - wherein a young doctor wrestles with the legacy of a black "resurrectionist" formerly employed by his South Carolina medical school.
A slave owned by the college, Nemo Johnston was one of many Civil War–era "resurrectionists"responsible for procuring human corpses for doctors' anatomy training. More than a century later, Dr. Jacob Thacker, a young medical resident on probation for Xanax abuse and assigned to work public relations for his medical school's dean, finds himself facing a moral dilemma when a campus renovation unearths the bones of dissected slaves—a potential PR disaster for the school. Will Jacob, still a stranger to his own history, continue to be complicit in the dean's cover-up or will he risk his entire career to force the school to face its dark past?

First-time novelist Matthew Quinn deftly weaves historical and fictional truth, salted with contemporary social satire, and traditional Southern Gothic into a tale of shocking crimes and exquisite revenge into a thoroughly absorbing and entertaining whole. A native of Atlanta, Matthew Guinn holds degrees in English from the University of Georgia, the University of Mississippi, and the University of South Carolina, where he was personal assistant to the late James Dickey.
More like this