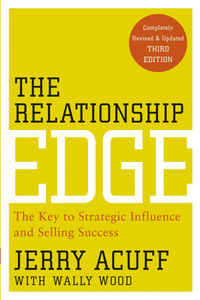 BACK
The Relationship Edge
The Key to Strategic Influence and Selling Success
Get a practical, actionable, three-step process to build and leverage important relationships
Most people know instinctively how to build positive, long-lasting relationships with spouses, friends, and even co-workers–but few of us know how to consciously and systematically build and maintain positive business relationships. For years, The Relationship Edge has successfully shown people how to build personal relationships and repair damaged ones with a proven three-step process.
This completely updated third edition offers a fresh perspective on that process and includes more contemporary case studies, as well as how to build and nurture relationships online.
Develop the right mindset–understand that personal relationships are vital to business success, both offline and online
Ask the right questions–discover the common ground you share with others
Do the right thing–be truthful and straightforward or you'll undermine the goodwill you've worked so hard to build
Jerry Acuff, the author, has a proven record of success with previous editions of The Relationship Edge
With real case studies and step-by-step guidance, The Relationship Edge, Third Edition offers the tools and advice you need to develop strong, rewarding relationships with customers, co-workers, and managers. Jerry Acuff's latest version is packed full of practical, concrete information on the mechanics of interpersonal relationships in the business world, all designed to have you doing business better and more productively than ever.
More like this