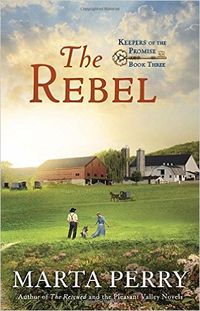 BACK
THE REBEL
In the final Keepers of the Promise novel, the acclaimed author of the Pleasant Valley series tells about a young Amish woman who must make a difficult choice, just as her grandmother did years ago.
Central Pennsylvania, current day. Restless and adventurous, Amish Barbie Lapp has been stepping out among the Englisch. Minister Benuel Kauffman doesn't approve of her choices, but he can't deny the positive influence Barbie has on his wayward teenage sister. As Barbie is drawn to the kindness beneath Benuel's gruff exterior, the mementos she finds in a dower chest given to her by her grandmother, Elizabeth, provide the insight she needs to decide whether to fully embrace the Amish way of life or leave it behind for forever.

Lancaster County, 1960. As working farms for the Amish become more scarce, Elizabeth Lapp's husband, Reuben, tries to persuade her that they would be better off moving north. But the prospect of leaving her close-knit community of family and friends frightens Elizabeth. Can she muster enough love and faith to leap into a new life?

Two women from one family, separated by decades, both find that the ultimate adventure takes place in the heart.

A lifetime spent in rural Pennsylvania and her own Pennsylvania Dutch roots led Marta Perry to write about the Plain People who add to the rich heritage of her home state. She is the author of more than fifty inspirational romance novels, including the Pleasant Valley series and the Keepers of the Promise trilogy.
More like this