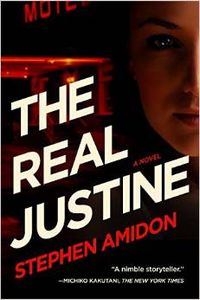 BACK
THE REAL JUSTINE
A brief love affair turns into an overwhelming obsession in a new novel that brings the talents of a superb literary stylist to a work of suspense, with thrilling results.
The beautiful younger woman who appeared so unexpectedly, so gloriously, in Michael Coolidge's life one night—a seemingly chance pick-up at a quiet neighborhood bar—vanished just as suddenly a few days later, into thin air it seemed, leaving him dazed and bewildered. Months later he chances upon Justine on a village street, locked in a violent quarrel with a scary looking brute—a day later, that man is found dead in a seedy motel and Justine has disappeared again, leaving behind only a hasty plea for help.

Michael's efforts to locate her, or to find out something more about her elusive past, yield only further mystery, a confusing web of lies, manipulations and false leads. Who is the real Justine? Downtown art world sophisticate, or small town innocent? Victim or predator? Someone he can trust, or someone he should actually fear?

This spellbinding psychological thriller confounds the reader at every turn, constantly causing us to revise our assumptions. It's a fascinating study in character and a relentless, ingeniously head-spinning story—all deliciously unresolved until the very last page.

Stephen Amidon is the author of ten books, including the novel Human Capital, which was recently made into an award-winning Italian film. He recently lived in London, where he worked as a film critic, and now lives in Boston with his wife and children.
More like this