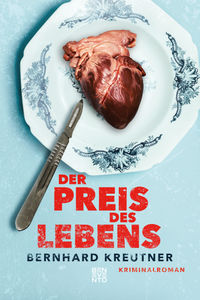 BACK
The Price of Life
Dr. André Keller and Dr. Eva Vekete specialize in organ transplants—or rather: organ theft. They procure organs for their influential clients, all of whom are wealthy and above any moral doubts. Their system works flawlessly—until they commit a blunder and two policemen start to investigate. A bloodcurdling and thrilling crime novel.
No matter whether it's a heart, a kidney, or a liver—if someone has the financial means, the doctors Keller and Vekete will find a suitable donor, remove the organ, and transplant it into their clients. Within a minimum of time and without leaving any traces—until there is a disastrous mishap at the Vienna Central Cemetery and Michael Lenhart begins investigating. Just like his colleague Sabine Preiss he was transferred to a mysterious task force for special cases as a disciplinary measure. While the two are groping in the dark in the beginning and the murders continue, the individual pieces of the puzzle start coming together in time.
Bernhard Kreutner has written a morbid, explosive, and highly entertaining crime novel showing great sense for his quirky yet charming protagonists and the setting of Vienna as well as very detailed knowledge of the political and medical backgrounds.

Weblink:
https://www.beneventobooks.com/produkt/der-preis-des-lebens-2/english/


More like this