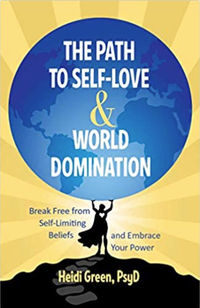 BACK
THE PATH TO SELF-LOVE AND WORLD DOMINATION
Break Free from Self-Limiting Beliefs and Embrace Your Power
A 7-step path to manifest and strengthen self-love, and quiet our inner critic.
Reading this book won't result in actual world domination. However, the author will set you on the path of dominating your own world, being the master of your destiny, and creating the life of your dreams. Written by a licensed psychologist and trauma therapist, the book shares Heidi Green's own journey from insecurity and self-loathing to emotional recovery and self-love. To help overcome the inner critic in all of us, Dr. Green will guide you through a 7-step path to manifest and strengthen self-love. She'll teach you to nurture and mature your inner child, reject unhelpful thoughts and behaviors, and restructure the way you respond to yourself and the world. Only then will you be prepared to engage in productive and meaningful life changes that will finally stick! Finally, you will be given your World Domination tool kit: 6 traits that must be cultivated for a truly awesome you.

This book will take you on a journey to discover what self-love is, what it isn't, how to find it, and why having it is the most important element to your life's happiness. You'll learn how to speak to yourself with kindness, reject unhelpful thoughts, and other powerful tools to let self-love reign supreme in your life.

Dr. Heidi Green is a licensed clinical psychologist at a world-renowned center for trauma and addiction treatment, Psychological Counseling Services, in Scottsdale, Arizona. She teaches self-love by example with accountability, humility, compassion, and a saucy spirit. Dr. Green maintains a strong social media presence on Instagram, Facebook, and Twitter. She has been featured as a mental health expert several times on the national television show, The List. She is a professional mental health blogger, authoring the blog, Living a Blissful Life, for HealthyPlace. Dr. Green has developed a workshop based on her book which she presents to individuals seeking education on how to reduce negative self-talk and improve self-worth. More information on mental health and emotional wellness topics can be found on her website, drheidigreen.com.

Weblink:
drheidigreen.com


More like this