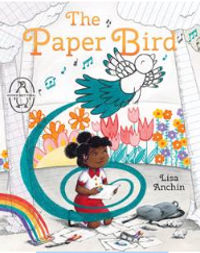 BACK
THE PAPER BIRD
A sumptuously illustrated exploration of the joy that comes with creating art for one's own self.
There once was a time when all the colors, from midsummer blue to sunrise orange, lived at the tip of Annie's fingers...

But when her classmates' sidelong glances cause Annie to notice all the tiny flaws in her art, her colorful creative spark fades--quite literally--to gray. With lyrical prose and eye-catching illustration author-artist Lisa Anchin shows readers how to find the beauty in imperfections and celebrate the joy of creation for creations' sake.

Key selling points:
- Read alongside The Book of Mistakes and Ish: With it's more narrative and accessible approach, The Paper Woods perfectly complements these beloved looks at the creative process.
- The colors of emotion: Readers can visually trace the arc of Annie's creative confidence as her world fades from fully saturated color, to muted grays, and back again.
- More than a lesson on embracing mistakes: Over the course of the book, Annie not only comes to appreciate the imperfections in her artwork, she also discovers something much more important: that creating to bring your own imagination to life will always be more fulfilling than trying to please others. This is such a powerful lesson for young creatives!

Lisa Anchin is a Brooklyn-based writer and illustrator. She holds a handful of degrees, most recently an MFA from the School of Visual Arts' Illustration as Visual Essay program. Lisa lives with her husband, daughters, and studio cats.
More like this