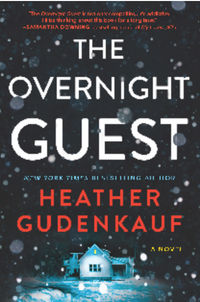 BACK
THE OVERNIGHT GUEST
A woman receives an unexpected visitor during a deadly snowstorm in this chilling thriller from New York Times bestselling author Heather Gudenkauf.
She thought she was alone...

True crime writer Wylie Lark doesn't mind being snowed in at the isolated farmhouse where she's retreated to write her new book. A cozy fire, complete silence. It would be perfect, if not for the fact that decades earlier, at this very house, two people were murdered in cold blood and a girl disappeared without a trace.

As the storm worsens, Wylie finds herself trapped inside the house, haunted by the secrets contained within its walls - haunted by secrets of her own. Then she discovers a small child in the snow just outside. How long had the child been there? Where did he come from? Bringing the child inside for warmth and safety, she begins to search for answers. But soon it becomes clear that the farmhouse isn't as isolated as she thought, and someone is willing to do anything to find them.

Heather Gudenkauf is a New York Times and USA Today bestselling author of The Weight of Silence and Not a Sound. Heather lives in Iowa with her family.

Weblink:
heathergudenkauf.com


More like this