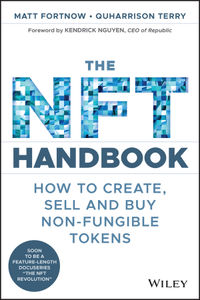 BACK
The NFT Handbook
How to Create, Sell and Buy Non-Fungible Tokens
A PRACTICAL AND NON-TECHNICAL GUIDE TO NFTS
NFTs—non-fungible tokens—are the ultimate collectible. Immune to damage or deterioration and impossible to knock-off, copy, or pirate, they are soaring in popularity and value.
In The NFT Handbook: How to Create, Sell and Buy Non-Fungible Tokens, a team of renowned digital entrepreneurs walks you through the steps you need to take to get in on the NFT action. It's a detailed guide to creating, selling, and buying non-fungible tokens that's accessible to anyone, even those without a background in blockchain or crypto technology.
The book covers the different types and aspects of NFTs, various NFT marketplaces, and the pros and cons of each one. You'll learn what content to use, where to source it, how to add artistic design, create the NFT description, add unlockable content, and set an optional ongoing royalty. You'll also find out how to mint your own NFTs and get them on the Ethereum blockchain.
The authors have also included real-life examples and case studies of people that have turned their own NFTs into overnight successes.
Whether you're a blockchain and crypto veteran or a complete newbie, The NFT Handbook: How to Create, Sell and Buy Non-Fungible Tokens can help you:
Create and mint your own NFTs from scratch
Buy existing NFTs on a variety of reputable marketplaces
Create collections and sell your NFTs by fixed price or auction
Model real-life successes with included case studies
Secure and protect your own cryptocurrency wallet to store your NFTs,
More like this