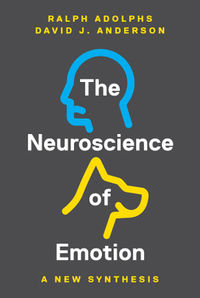 BACK
THE NEUROSCIENCE OF EMOTION
A New Synthesis
A new framework for the neuroscientific study of emotions in humans and animals
The Neuroscience of Emotion presents a new framework for the neuroscientific study of emotion across species. Written by Ralph Adolphs and David J. Anderson, two leading authorities on the study of emotion, this accessible and original book recasts the discipline and demonstrates that in order to understand emotion, we need to examine its biological roots in humans and animals. Only through a comparative approach that encompasses work at the molecular, cellular, systems, and cognitive levels will we be able to comprehend what emotions do, how they evolved, how the brain shapes their development, and even how we might engineer them into robots in the future.

Showing that emotions are ubiquitous across species and implemented in specific brain circuits, Adolphs and Anderson offer a broad foundation for thinking about emotions as evolved, functionally defined biological states. The authors discuss the techniques and findings from modern neuroscientific investigations of emotion and conclude with a survey of theories and future research directions.

Featuring color illustrations throughout, The Neuroscience of Emotion synthesizes the latest in neuroscientific work to provide deeper insights into how emotions function in all of us.

Ralph Adolphs is the Bren Professor of Psychology, Neuroscience, and Biology at the California Institute of Technology (Caltech) and Director of the Caltech Brain Imaging Center.
David J. Anderson is the Seymour Benzer Professor of Biology and Director of the Tianqiao and Chrissy Chen Institute for Neuroscience at the California Institute of Technology and an Investigator with the Howard Hughes Medical Institute.
More like this