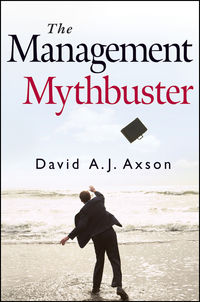 BACK
The Management Mythbuster
The Management Mythbuster
Most of the management practices upon which organizations rely are broken beyond repair.
At no time did this become clearer than in 2008. Within the space of a few months, much of the framework of modern management practice came crashing down. Corporate titans were humbled, long established compensation practices failed, and the only certainty about any forecast was that it would be wrong. All of this upheaval is causing executives in every industry to rethink the conventional management wisdom they had so implicitly trusted.
Taking a seriously irreverent look at some of the more popular management myths, The Management Mythbuster features short chapters on many of the theories, tools, and behaviors that continue to govern decision-making in today's business world, such as:
Missions, visions, and other expensive pastimes

Strategy and stuff like it

Gurus, consultants, and other advisors

Forget success, focus on failure

Budgeting—A Modern Vision of Hell (Well, Purgatory at Least)

The Futility of Forecasting

Total Quality, Six Sigma, Process Re-engineering, and more

Pay for Performance? Failure Pays Very Well These Days

The Business of Spin

Why Accountants Rule the World

And much more!
It's time to question the effectiveness of long-established management practices. Entertaining and insightful, The Management Mythbuster takes you on a humorous tour of management today with a thought-provoking message.
Following the trials and tribulations of the fictional management team of Cruciant, Inc., author David Axson illustrates the destructive power of many of the management myths that continue to govern decision-making today and presents a realistic "new normal" road map for successful management today.
More like this