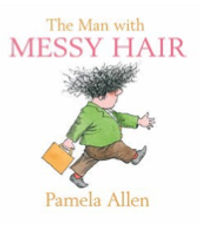 BACK
THE MAN WITH MESSY HAIR
'There was a man with messy hair. He liked the mess. He didn't care.'
But his messy hair soon got him into all sorts of trouble!

Part cautionary tale, part wry observation of the quirks in us all, this is (as always) a delightful story that will make you laugh; and what child doesn't like to read about messiness?
Perfect for acting and reading aloud, here is a fabulous new story from the inimitable Pamela Allen that children, their parents and their teachers will turn to time and time again.
More like this