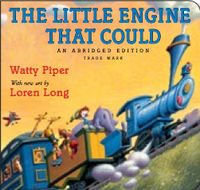 BACK
THE LITTLE ENGINE THAT COULD
The all-time classic, re-illustrated by the creator of Otis, now available as a board book!
Everyone loves The Little Engine That Could, that classic tale of the determined little engine that, despite its small stature, triumphantly pulls a train full of toys to the waiting children on the other side of a mountain.

Originally re-illustrated by the great Loren Long (Otis; Toy Boat; Of Thee I Sing) in 2005, this vibrant edition of the classic story was heralded by critics and became a #1 New York Times bestseller. Now abridged and shrunk for the littlest of hands, The Little Engine That Could is ready for the youngest readers to hop on board!

Loren Long is a Midwesterner, having grown up in Missouri and attended school at the University of Kentucky in Lexington. He is the creator of the best- selling Otis series.
More like this