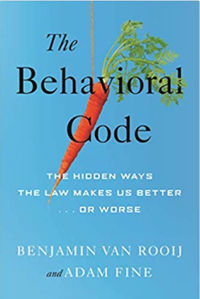 BACK
THE BEHAVIORAL CODE
The Hidden Ways the Law Makes Us Better or Worse
Using examples from legal systems throughout the world, this is a fascinating and seminal account of the impact of law on human behavior which explores some of the most challenging issues of our time.
Why do some laws radically change society whereas others are consistently ignored and routinely broken? Our laws harshly punish drug offenders, yet the opioid epidemic rages on; our laws set and enforce pollution standards for cars, yet 97% of diesel cars still fail to meet the standards; our laws bar performance enhancing substances in sports, yet Olympians continue to test dirty for doping.

Using two decades of research, Benjamin van Rooij and Adam Fine explore the law's core behavioral mechanisms and argue that our laws fail because when we design laws, we rely on our intuitions rather than the science behind behavior. Leveraging gripping and counterintuitive examples, The Behavioral Code demonstrates how the law can effectively improve human conduct and respond to some of our most pressing headlines as well as stories that flew under the radar. The authors travel to New Zealand to understand how an avocado shortage led to widespread theft; they ride on Dutch trains to see how classical music is used to reduce crime in the Netherlands; they step back in time to the 60s to understand why economic growth and more job opportunities led to more, rather than less crime; and they go into corporate boardrooms at VW, BP and Wells Fargo to understand how our response to massive corporate misconduct has actually more deeply engrained wrongdoing within the values of these corporations.Revelatory and engaging, The Behavioral Codeillustrates the law's potential for creating a safer and more just society.

Benjamin van Rooij, PhD, is a Professor in Law and Society and Director of the Graduate School of Law at the University of Amsterdam and Global Professor of Law at the University of California Irvine (UC I). His findings have been featured in the New York Times, NPR, and the Huffington Post. His research on law and behavior was awarded a highly competitive and prestigious 2 million-Euro grant by the European Research Counsel.

Adam Fine, PhD, is an Assistant Professor of Criminology & Criminal Justice as well as Law & Behavioral Sciences at Arizona State University. His work routinely appears in the top journals in psychology and law, developmental psychology, public policy, criminology, and criminal justice. He is a recent recipient of the American Psychological Foundation's "Visionary" honor.
More like this