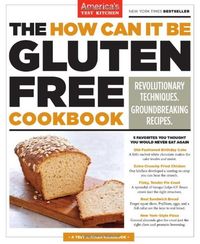 BACK
THE HOW CAN IT BE GLUTEN FREE COOKBOOK
Gluten-free cooking takes a quantum leap forward with this collection of groundbreaking recipes and revolutionary techniques.
We tried thousands of recipes (most were pretty awful) before we figured out the secrets to making favorite foods without gluten. In this landmark book we'll tell you what works (and why) and share the simple and economical recipe for the America's Test Kitchen's Gluten-Free Flour Blend as well as comfort foods like Lasagna with Hearty Tomato-Meat Sauce, Baked Macaroni and Cheese, and tender and moist Meat Loaf.

Learn how we reinvented the rules of baking to produce tall, light-textured Classic Sandwich Bread, Chewy Sugar Cookies with crackly tops, the ultimateChocolate Layer Cake, flaky and tender Pie Doughfor Deep Dish Apple Pie, decadent Fudgy Brownies, and more. We include an extensive basics chapter that's a road map for understanding the science of gluten, and offer taste test results of gluten-free products. Our test kitchen doesn't settle for second best, why should you? This is the gluten-free cookbook you've been waiting for.

America's Test Kitchen is a real 2,500 square foot test kitchen located just outside of Boston that is home to more than three dozen full-time cooks and product testers. Our mission is simple: to develop the absolute best recipes for all of your favorite foods. To do this, we test each recipe 30, 40, sometimes as many as 70 times, until we arrive at the combination of ingredients, technique, temperature, cooking time, and equipment that yields the best, most-foolproof recipe. Our recipes, equipment reviews, ingredient taste tests results, and kitchen tips are made available through our magazines, our websites, our television series; America's Test Kitchen and Cook's Country from America's Test Kitchen, and our cookbooks.
More like this