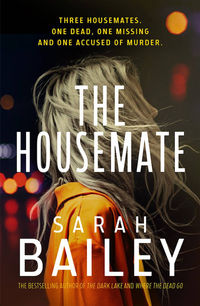 BACK
THE HOUSEMATE
Three housemates. One dead, one missing and one accused of murder. Dubbed 'The Housemate Homicide', it's a mystery that has baffled Australians for almost a decade.
In an inner-city suburb on a grey and windy Melbourne morning in 2005, Evelyn, a young woman, is murdered after a house party gone horribly wrong. Her closest friend and housemate, Alex, found covered in the murdered woman's blood, is the prime suspect, but she remembers nothing of the events of that night fuelled by drugs, alcohol and multiple motives for murder. Their third housemate, Nicole, disappears that night and is not seen for many, many years to come.

A young journalist, Oli, is called to report on a case she knows will have the whole of Melbourne's attention and will become an unsolved murder of mythic proportions. This is the first big story she's been assigned to, and she wants to prove her worth. She's also entangled in an affair with the lead detective's husband.

Interest in the case re-emerges a decade later when the missing housemate is found dead, hanged from a tree. Oli is now a full-time crime reporter and wisened to the nature of reporting that's considered a dying field in 2015. The Housemate case has continued to haunt her in many ways and holds so much for her professionally and personally, as she is now engaged to the man with whom she was having an affair with at the time, living uneasily in a huge gleaming house with him and his twin daughters after the death of his detective wife, plagued by the idea of becoming a mother herself as she approaches forty.

Despite her protests, she is reluctantly paired with precocious millennial podcaster Cooper Ng, who has been developing a true crime podcast for the paper, and tasked with covering the case again.

What really happened between the three housemates that night? Will Oli's relentless search for the murderer put her new family in danger? And could her suspicion that the truth lies closer to home threaten her happiness and even her sanity?

Sarah Bailey has become one of the world's most beloved new crime writers with her Gemma Woodstock trilogy, published throughout the US, UK and many translation territories. Bailey has an exceptional talent for female protagonists they are never quite who they seem as they should be. Told through a blend of narrative and reportage Bailey exceeds her talent once again from taut, masterful storytelling in her first standalone novel.

Sarah Bailey is a Melbourne-based writer with a background in advertising and communications. She has two young children and is currently the Managing Partner of advertising agency VMLY&R in Melbourne. Her internationally award-winning Gemma Woodstock trilogy includes The Dark Lake, published in 2017 and winner of the Ned Kelly Award for Best First Fiction and the Davitt Award for Best Debut, followed by Into the Night in 2018, and Where the Dead Go in 2019.
More like this