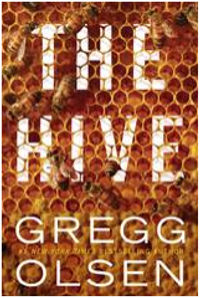 BACK
THE HIVE
The next domestic thriller by #1 New York Times bestselling author Gregg Olsen.
Beautiful and Machiavellian Marnie Spellman is the OG of wellness and natural cosmetics empires promising devotees (in this case, "Marnie's Army") beauty and happiness. Charismatic Marnie claims a swarm of honeybees told her the secrets of nature when she was a girl -- and that she was to be a messenger to women.

Beaten down by a recent divorce and her partner's suicide Detective Lindsay Jackman takes on the case of a murdered journalist, she discovers a connection to a 20-year-old, unsolved homicide. As Jackman unravels the lies, rivalries, and mystery surrounding Marnie Spellman, she threatens not only Spellman's planned comeback, but the lives of former members of her inner circle, The Hive. A faded actress, an upcoming politician, a businesswoman and a homemaker...all have more than enough to hide. As she digs for the shocking truth, Lindsay discovers not everything -- or everyone -- is what they seem. Marnie is both an empowering feminist force and a dangerous queen bee.

THE HIVE will appeal to readers of traditional suspense with multilayered stories such as BIG LITTLE LIES by Liane Moriarty and LITTLE FIRES EVERYWHERE by Celeste Ng. Olsen reveals the twisted, interconnected fates of the women who were drawn into Marnie's lethal world.

#1 New York Times and Amazon Charts bestselling author Gregg Olsen has written more than thirty books, including Lying Next to Me, The Last Thing She Ever Did, and two novels in the Nicole Foster series, The Sound of Rain and The Weight of Silence. Known for his ability to create vivid and fascinating narratives, he's appeared on multiple television and radio shows and news networks, such as Good Morning America, Dateline, Entertainment Tonight, CNN, and MSNBC. In addition, Olsen has been featured in Redbook, People, and Salon magazine, as well as in the Seattle Times, Los Angeles Times, and New York Post. Both his fiction and nonfiction works have received critical acclaim and numerous awards, including prominence on the USA Today and Wall Street Journal bestseller lists. Washington State officially selected his young adult novel Envy for the National Book Festival, and The Deep Dark was named Idaho Book of the Year. A Seattle native who lives with his wife in rural Washington State, Olsen's already at work on his next thriller.

Weblink:
www.greggolsen.com


More like this