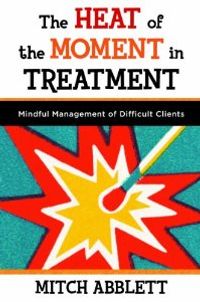 BACK
THE HEAT OF THE MOMENT IN TREATMENT
Mindful Management of Difficult Clients
Every therapist has challenging clients who drive them crazy. Learning to put distance between you and your clients and navigate the sometimes difficult waters of therapeutic relationships can be hard. This book tackles delicate questions: how to help those you don't like and bring authenticity to all therapeutic relationships. Mitch Abblett works at a Harvard-affiliated therapeutic day school.
Have you ever overreacted to a client in session? Are you looking for tools for managing your most "difficult" clients? Chances are, you're like all other clinicians: at times you play "tug-of-war" with those in your care.
The Heat of the Moment in Treatment is a workbook for clinicians looking to fully expand their work with difficult populations. With a thoughtful sequence of chapters, carefully designed exercises, self-assessments, and skill development activities, The Heat of the Moment in Treatment helps clinicians learn to understand their own role in therapeutic interactions, as well as how to best manage reactions and proactively respond to tough client behavior in a way that improves the prospects for successful treatment. This workbook provides a valuable starting point for clinicians interested in the longer journey of professional development in the area of therapeutic relationship management.

Mitch Abblett is a licensed psychologist, clinical administrator, supervisor, and trainer. He is the clinical director of a Harvard University-affiliated therapeutic day school serving children and adolescents with emotional, behavioral, and learning difficulties. He lives in Newton, Massachusetts.
More like this