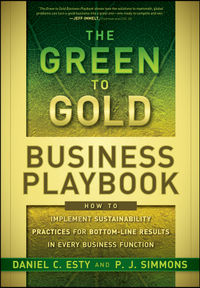 BACK
The Green to Gold Business Playbook
How to Implement Sustainability Practices for Bottom-Line Results in Every Business Function
Whether you are a climate-change skeptic or an ardent environmentalist, sustainability issues cannot be ignored in today's corporate world. With rising energy and natural resource costs, intensified regulations, investor pressures, and a growing demand for environmentally friendly products, sustainability is no longer an option—it's a business imperative.
Building on the bestselling book Green to Gold by Dan Esty and Andrew Winston, The Green to Gold Business Playbook tells how to put sustainability considerations into practice for competitive advantage. While Green to Gold explained why every business needs a sustainability strategy, the Playbook spells out how to achieve an Eco-Advantage. This concrete guide shows the way to sustainability for companies of any size in any industry.
Filled with essential tools and real-world examples, the Playbook gives job-specific advice that can be read selectively or from cover to cover. Whether you're a CEO or a team leader, you'll get step-by-step guidance on how to:
Cut costs and increase profit margins by driving greater efficiencies in buildings and facilities, information technology, manufacturing, supply chain and logistics, and more

Grow revenues by designing and marketing environmentally superior goods and services that meet your customers' desires for energy efficiency, reduced pollution, and healthier products

Build your brand and image by connecting with the values and rising expectations of consumers, employees, and other key stakeholders

Identify and reduce regulatory risks across your value chain
Failing to stay on top of sustainability trends will hurt your company. But implementing an Eco-Advantage strategy could vault you into industry leadership with huge revenue gains and unmatched customer loyalty. The Green to Gold Business Playbook will tell you everything about the how of sustainability. The only question you'll have left is when.  
More like this