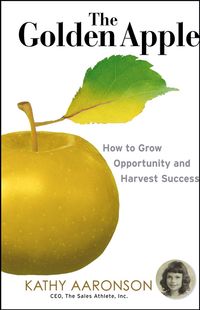 BACK
The Golden Apple
How to Grow Opportunity and Harvest Success
Nationally recognized executive recruiter and sales trainer Kathy Aaronson has thrived in sales through three deep rolling recessionsand the aftermath of 9/11. She has built a loyal following nationwide by sharing the secrets of finding career satisfaction and security despite changes in the economy, business practices, or workforce demands. In The Golden Apple, Aaronson takes readers back to the roadside vegetable stand where, driven by "kid courage,"she first learned how to see value that others had ignored and how to communicate and provide that value to create customer satisfaction.
As an eight-year-old selling the oddly shaped, unevenly colored rejects from her family's farm—and drawing customers away from the produce aisles at the grocery store—Aaronson began to understand key principles of establishing positive connections with others and providing value in a way that others can appreciate. She built on those principles as one of the first women to succeed in national advertising sales for Cosmopolitan, Working Woman, and W magazines before turning her focus full time to The Sales Athlete, Inc. As a salestrainer and recruiter, she has been retained by more than a thousand companies, including the Tribune Company, Time Warner, and Emmis Communications.
The Golden Apple recounts the lessons Aaronson has learned from a lifetime of turning unrealized value into bankable, tangible results. Straightforward, entertaining, and easy to like, this value-packed rulebook is built around the nine essential lessons that drive success in literally every aspect of your life.
Whatever your level of accomplishment, The Golden Apple will give you the knowledge and encouragement you need to reach that elusive next level. Lively where other business books are dry, clear-cut where other business books are vague, it will show you how to achieve personal and professional success by detailing:
A step-by-step approach for life and business that makes success easier than failure
Tips on how to break through each and every time you hear "No" and build positive business relationships even with people who are initially rude, indifferent, or skeptical
A road map for developing mentors and loyal client relationships that will bring you career satisfaction and security regardless of changes in the economy
Case studies, examples, checklists, and more for transforming the book's wisdom and examples into concrete action
The Golden Apple is about recognizing and presenting value—in yourself, in your career, and in the people you meet everywhere you go. Profound in its simplicity, it will help you reach inside yourself to rediscover your "kid courage" and give you the power you need to be more credible and confident in your career and life.
More like this