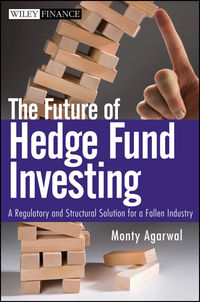 BACK
The Future of Hedge Fund Investing
A Regulatory and Structural Solution for a Fallen Industry
How to fix the hedge fund industry
The world will always have its Ponzi schemes and money managers like Bernie Madoff. But for today's financial professional, the germane question raised by recent scandals is not why people commit crimes, but rather why the paid experts—especially fund of funds managers—failed to detect investment hazards that seem so glaring in retrospect.
The Future of Hedge Fund Investing spells out, in refreshingly stark terms, exactly how the industry let down its clients and the changes needed to restore their confidence. Written by Monty Agarwal, the founder of Predator Capital Management, this insider's guide gives a full assessment of the business, including the ad-vantages of hedge funds, their pitfalls, and, most importantly, how to avoid these missteps.
The coverage begins by describing the hedge fund universe, which includes funds and funds of funds; fund regulators, major investors, and middlemen; fee structures, incentives, what it takes to become a successful hedge fund manager, and typical investment strategies. From here, Agarwal explores possible solutions and fixes as he touches upon several important issues within this field, such as:
Structural changes for funds of funds in areas including trading, diversification, risk management, and due diligence

Guidelines for investors to follow when interviewing hedge fund managers

How to improve the overall due diligence process

The role of hedge funds in the 2008 market crisis and what can be learned from it

How the experts failed and the different approach the industry needs to adopt to avoid these failures as we move forward
Given the vital role hedge funds play in the global capital markets, this industry deserves to be both better understood and better run. The Future of Hedge Fund Investing offers a critical yet constructive analysis of these crucial financial entities. Whether you're a financial professional, a potential investor, or simply an interested reader, The Future of Hedge Fund Investing gives you a clear look at the state of hedge funds today as well as a picture of what the future may hold for them.
More like this