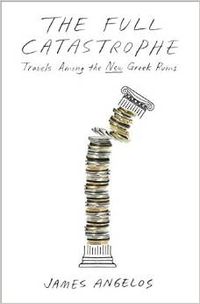 BACK
THE FULL CATASTROPHE
Travels Among the New Greek Ruins
The Full Catastrophe is a smart, narrative look at the financial crisis in Greece, and is much more than just an examination of economic events.
Angelos, a Wall Street Journal reporter based in Berlin and from a Greek family himself, contextualizes the economic crisis with a look at Greece as a place, and as an ideal (being the birthplace of democracy, after all).
A transporting, good-humored, and revealing account of Greece's dire troubles, reported from the mountain villages, idyllic islands, and hardscrabble streets that define the country today.

In recent years, tiny Greece, often associated with ancient philosophers and marble ruins, whitewashed villages and cerulean seas, has been at the center of a debt crisis that has sown economic and social ruin, spurred panic in international markets, and tested Europe's decades-old project of forging a closer union.

In The Full Catastrophe, James Angelos makes sense of contrasting images of Greece, a nation both romanticized for its classical past and castigated for its dysfunctional present. With vivid character-driven narratives and engaging reporting that offers an immersive sense of place, he brings to life some of the causes of the country's economic collapse and examines the changes, some hopeful and others deeply worrisome, emerging in its aftermath. A small rebellion against tax authorities breaks out on a normally serene Aegean island. A mayor from a bucolic, northern Greek village is gunned down by the municipal treasurer. An aging hero of the Second World War fights to win compensation from Germany for the wartime occupation. A once marginal group of neo-Nazis rises to political prominence out of a ramshackle Athens neighborhood.

The Full Catastrophe goes beyond the transient coverage in the daily headlines to deliver an enduring and absorbing portrait of modern Greece.

JAMES ANGELOS is a freelance journalist and former correspondent for the Wall Street Journal. Prior to reporting from Europe, he wrote for the New York Times city section. He lives in Berlin.
More like this