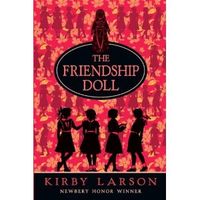 BACK
THE FRIENDSHIP DOLL
The wonderful tale of four girls and the doll who changes their lives by the Newbery Honor-winning author of HATTIE BIG SKY.
I am Miss Kanagawa, Master Tatsuhiko's finest and final creation.

"In 1927, my fifty-seven doll-sisters and I were sent to this country as Ambassadors of Friendship. Oh! The parties and receptions and admirers. But let me assure you, it wasn't all peach blossoms and tea cakes. Some rice brains thought me only a plaything, unaware that I was a samurai in silk. Together we traveled from New York to Oregon during that time of troubles called the Great Depression. Though few in this tale are as fascinating as I am, their stories will not be an unpleasant diversion. You will meet Bunny, bent on mischief; Lois, with her head high in the clouds; and Willie Mae, the girl who not only awakened my heart but also broke it. And, of course, Lucy, true samurai, and friend so dear that not even a war could part us."
But there is another reason the doll, Miss Kanagawa, has put her story on paper. Fiftyeight Doll Ambassadors came from Japan, yet the whereabouts of only forty-five are known. And now Miss Kanagawa needs someone to solve the mystery of her thirteen missing sisters.
Newbery Honor winner Kirby Larson's tale of four girls and the Japanese Friendship Doll who changes their lives is testament to all kinds of friendships.

Kirby Larson is the acclaimed author of the 2007 Newbery Honor Book, HATTIE BIG SKY, a young adult historical novel that was inspired by her great-grandmother who homesteaded by herself in eastern Montana as a young woman. Kirby collaborates with her good friend, Mary Nethery, which has resulted in two nonfiction picture books: TWO BOBBIES: A True Story of Hurricane Katrina, Friendship and Survival (illustrated by Jean Cassels) and NUBS: The True Story of a Mutt, a Marine and a Miracle. She is also the author of the first book in Scholastic's relaunch of its Dear America series, THE FENCES BETWEEN US.
More like this