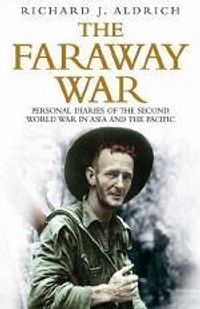 BACK
The Faraway Way
The war that took place across Asia and the Pacific between 1941 and 1945 both united and divided nations across the globe.
Yet beyond the bombing of Pearl Harbor and the dropping of the atomic bombs on Japan, the personal experience of war in this theatre has received relatively little attention – the primary focus having been on the action against Hitler in Europe. On the opposite side of the world the main combatants were all fighting each other upon unfamiliar terrain far away from their homelands: as one Japanese soldier wrote in his diary, 'at this moment in the southern hemisphere, everybody's mind was just preoccupied with the memory of home.'
Richard J. Aldrich brings to life the war through the diaries of people on all sides, with events recorded as they happened. A kamikaze pilot in the last days before his suicide mission; an injured Australian prisoner of war humbled by the heroic attempts of his fellow inmates to save his life by endangering their own; a young Japanese boy terrified by the rumours of impending atomic warfare; a British nurse in Malaya forced to abandon her patients following strict evacuation orders. Stories such as these are drawn into a chronological account of the war by Aldrich's expert month-by-month commentary.
The Faraway War offers a stunning and diverse range of diaries, focusing both on ordinary people, some of whose diaries are published here for the first time, as well as on more celebrated figures such as Evelyn Waugh, Charles Lindbergh, Harry Truman and Joyce Grenfell. With this second volume Richard Aldrich now completes the picture that he began with the European and Middle Eastern action in Witness to War, by creating an intimate and illuminating portrait of a whole world ravaged by war.

Weblink:
http://www.andrewlownie.co.uk/authors/richard-j-aldrich/books/the-faraway-way


More like this