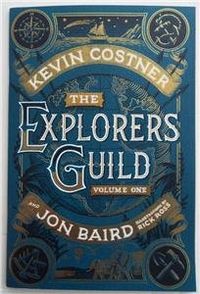 BACK
THE EXPLORER'S GUILD
The golden age of adventure stories returns with this splendidly designed, action-packed, globe-trotting tale that combines the bravura storytelling of Kipling with the irresistible style of The Adventures of Tintin.
Behind the staid public rooms of an old world gentlemen's club operates a more mysterious organization: The Explorers Guild, a clandestine group of adventurers who bravely journey to those places in which light gives way to shadow and reason is usurped by myth. The secrets they seek are hidden in mountain ranges and lost in deserts, buried in the ocean floor and lodged deep in polar ice. The aim of The Explorers Guild: to discover the mysteries that lie beyond the boundaries of the known world.

Set against the backdrop of World War I, with Western Civilization on the edge of calamity, the first installment in The Explorers Guild series, A Passage to Shambhala, concerns the Guild's quest to find the golden city of Buddhist myth. The search will take them from the Polar North to the Mongolian deserts, through the underground canals of Asia to deep inside the Himalayas, before the fabled city finally divulges its secrets and the globe-spanning journey plays out to its startling conclusion.

The Explorers Guild is a rare publishing opportunity, powered by the creative passion of one of the world's true storytelling masters, Kevin Costner.

Kevin Costner, co-creator of The Explorers Guild, is an internationally renowned filmmaker. Considered one of the most critically acclaimed and visionary storytellers of his generation, Costner has produced, directed and/or starred in such memorable films as Dances With Wolves, JFK, The Bodyguard, Field of Dreams, Tin Cup, Bull Durham, Open Range, Hatfields & McCoys and Black or White, among many others. His prolific career and cultural contributions have garnered him numerous accolades, including two Academy Awards, three Golden Globe Awards and an Emmy Award.

Jon Baird is a co-creator of The Explorers Guild and author/illustrator of the novels Day Job and Songs From Nowhere Near the Heart. He is a co-writer, with Kevin Costner, of the Horizon miniseries.

Rick Ross is an artist and filmmaker whose first work in graphic fiction was illustrating the Image Comics series Urban Monsters. Subsequently he was the lead artist for the graphic novelization of Spike TV's 1000 Ways to Die, and he has also created artwork for a number of animated motion comics, including for the Cinemax television show Femme Fatales. He is the founder and publisher of the online graphic fiction anthology Agitainment.

Weblink:
http://www.youtube.com/watch?v=9SGKhWGFxIg&feature=youtu.be


More like this