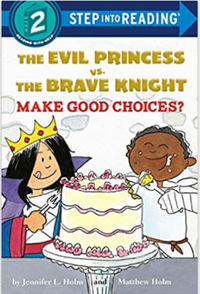 BACK
THE EVIL PRINCESS VS. THE BRAVE KNIGHT: MAKE GOOD CHOICES?
For every parent and caregiver tired of telling the kids it's not a good idea to eat cake for breakfast, this hilarious and imaginative new Step into Reading--from the beloved creators of Babymouse--is here to help. Sort of.
Should the Evil Princess eat cake for breakfast? Should the Brave Knight jump in the muddly puddle? Watch them try to learn...to make, ahem, better choices, in this hilarious and perfectly young Step 2 Step into Reading.

Step 2 readers use basic vocabulary and short sentences to tell simple stories. They are perfect for children who recognize familiar words and can sound out new words with help.

Jennifer L. Holm is the New York Times bestselling author of The Fourteenth Goldfish and several other highly acclaimed novels, including the Scott O'Dell Award-winning Full of Beans and three Newbery Honor Books, Our Only May Amelia, Penny from Heaven, and Turtle in Paradise. With her brother Matt, she is the cocreator of beloved and bestselling graphic novels, including the Babymouse, Squish, and Sunny Side Up series. Visit jenniferholm.com and follow @jenniholm on Twitter.

Matthew Holm is a New York Times bestselling author and illustrator who has created more than thirty-five books for children. He is the cocreator (with his sister, Jennifer) of a number of graphic novels, including the Eisner Award-winning Babymouse series and the Squish and Sunny Side Up series. Matthew recently cowrote and illustrated the middle-grade novel Marvin and the Moths. He lives in the Hudson Valley, New York, with his wife and dog. Visit matthewholm.net and follow @mattholm on Twitter.
More like this