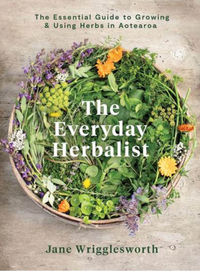 BACK
THE EVERYDAY HERBALIST
The Essential Guide to Growing & Using Herbs in Aotearoa
The Everyday Herbalist is a comprehensive guide to herbs, covering everything the reader needs to know, from how to grow them successfully in the garden to how to use them for health and wellbeing.
When the pandemic started it was sourdough first. Once we mastered bread, we moved on to elaborate meals (finally all those Ottolenghi books came to full use). Then we thought we could grow our own food. And while many of us succeeded with potatoes and zucchini, space-restrictions (or the lack of a green thumb) meant that the only thing growing were herbs. Now there's only so much pesto one can eat, so what else was there to do with what was growing on our balconies and windowsills?

In The Everyday Herbalist Jane Wrigglesworth teaches how to make remedies for a range of ailments: coughs, colds, allergies, low immunity, nausea, digestive disorders, insomnia, lack of energy, stress and mental health issues. She gives practical information on how to make teas, tinctures, balms, ointments, poultices and much more. She throws in a few ideas for the kitchen: pastes, pestos, seasonings and broths. And she offers terrific recipes for skin creams, serums, body butters, lip balms and perfumes, and ideas for cleaning: sprays, pastes, bar soap, flowing soap, laundry powder and scented sachets.

The Everyday Herbalist contains detailed information on 30 must-have herbs and usage suggestions for a wide variety of others. The book is fully illustrated with identification photos; it is perfect for gardeners or those interested in natural health.

Jane Wrigglesworth writes for NZ Gardener, Lifestyle Block, and numerous other publications in New Zealand and overseas, specialising in gardening, herbs and herbal remedies. She is studying a degree in natural medicine at the South Pacific College of Natural Medicine.
More like this