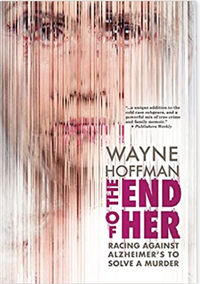 BACK
THE END OF HER
Racing Against Alzheimer's to Solve a Murder
Who was behind the brutal murder of my great-grandmother? wondered Wayne Hoffman, a New York City-based journalist and novelist. The crime wasn't just a family legend-it made headlines across Canada in 1913 - but her killer had never been found.
In The End of Her, Hoffman meticulously researches this century-old tragedy, while facing another: his mother's decline from Alzheimer's. Weaving back and forth between past and present, Hoffman invokes in dramatic detail the life and death of his immigrant great-grandmother in Winnipeg's Hebrew Colony, and his mother's downward spiral. In the process, he discovers an extended family that has been scattered across thousands of miles for a hundred years.

Wayne Hoffman is an American author and journalist. He has published three novels: Hard and its sequel An Older Man are both published by Bear Bones Books, while the Stonewall Book Award-winning Sweet Like Sugar is published by Kensington Books. He is also a contributor to several anthologies. By day, Wayne is a journalist: His cultural reporting has appeared in The Wall Street Journal, Washington Post, Village Voice, The Nation, The Forward, Billboard and The Advocate. He is executive editor of Tablet Magazine.
More like this