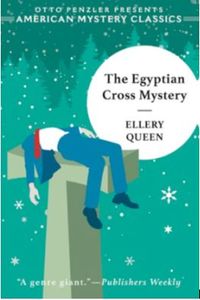 BACK
THE EGYPTIAN CROSS MYSTERY
This riveting installment of the Ellery Queen series, which can be read in any order, finds the legendary sleuth delving into one of his stranger, and bloodier cases. First published in 1932, THE EGYPTIAN CROSS MYSTERY is a revered classic mystery novel.

Otto Penzler, leading editor and advocate of classic mystery fiction, launched the American Mystery Classics imprint to showcase beloved works such as THE CHINESE ORANGE MYSTERY, THE DUTCH SHOE MYSTERY, THE SIAMESE TWIN MYSTERY and THE EGYPTIAN CROSS MYSTERY.

Mystery writer and American detective extraordinaire, Ellery Queen is the creation and nom de plume of mystery writers Frederic Dannay and Manfred B. Lee. The character of Ellery Queen has been one of the most famous of America's fictional detectives for over 40 years, with more than 30 novels and short stories detailing his exploits. Adapted to television, radio, and film, the Ellery Queen stories reached incredible heights of popularity worldwide and spawned Ellery Queen's Mystery Magazine which continues to be published every month.
More like this