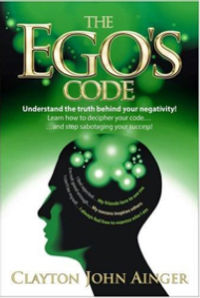 BACK
THE EGO'S CODE
Understand the Truth Behind Your Negativity!
Understand the truth behind your negativity! Learn how to decipher your code…and stop sabotaging your success!
Every day we all experience negativity whether it be feelings, emotions, actions, behaviour or self-talk within ourselves or from others. For many people it causes them to sabotage success, relationships, health, wellbeing and finances ultimately preventing them from fully experiencing their life and living their dreams. During a meditation at Stonehenge, Clayton Ainger received clear and detailed guidance about why we experience negativity and how to be free of it.

In The Ego's Code, Clayton explores the spiritual reasons for negativity, its purpose and where it comes from. He explains the effect on the physical body, the mind, how it interacts with spirit and impacts on your life. The Ego's Code offers new insights and understanding to change old beliefs and perceptions about negativity. Clayton then invites you to undertake simple and yet powerful exercises to release your negativity, to change your reality, so you can live your dream life.

Clayton John Ainger plays many roles in his life, the most important to him is being a dad and husband. He is passionate about loving life and enjoying every aspect of it. His ethos in life is about making every person matter every time. Clayton and his wife run a successful training and consultancy business working with people all over the world, from different walks of life. From once being a tax specialist he is now a sought after consultant and speaker. He loves to be different, challenge the status quo and inspire the people and companies he works with to explore new ways of thinking, attitudes and behaviors transforming lives and results for the long-term. Clayton is also a spiritual teacher, psychic medium and shamanic healer. This book is a culmination of his spiritual journey so far. This is his passion: helping people to embrace their true self.
More like this