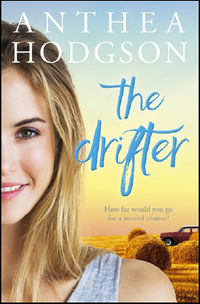 BACK
THE DRIFTER
An edgy debut rural romance novel from an exciting new author.
Cate Christie is a party girl, unable to commit to anything, until she is involved in a tragic accident that changes everything. To escape her guilt and her parents' bitter disapproval, Cate leaves Perth for her aunt Ida's isolated farm in country Western Australia.

Henry is a drifter, a young swagman-like character who wanders onto the Christie family property and takes up residence in a disused shed. With secrets of his own, the last thing he wants is to get tangled up in Cate and Ida's lives.

Against their own better judgement, the fates of Cate and Henry and Ida inexorably intertwine and they learn to face the realities of life, death and letting go.

A witty, charming and moving debut rural romance about what makes a good death and, more importantly, what makes a good life.

Anthea Hodgson is a country girl from the WA wheatbelt. She worked as a radio producer in WA, NSW and Queensland before returning to WA, where she lives with her husband and two children.
More like this